It's really starting to hit me that my year living near London is coming to an end. There are still so many things I want to see and do here! One place I've been wanting to visit is Greenwich, which I finally got to a week ago. My first stop in Greenwich was the British clipper ship, the Cutty Sark.
The Cutty Sark was built for the tea trade and took part in
races from China to London.
Me on the Cutty Sark
The Hull of the Cutty Sark



One of the most well known places in Greenwich is the Prime Meridian so I had to check that out!
Here I am at

0°

Longitude.



The Prime Meridian
This is a really cool sundial;
the time is found where the shadow of the dolphin tails meet.



Another place that I've been wanting to visit is Kew Gardens, so I took the tube across town and was there in a jiffy.
Kew Gardens
Right now there is a special exhibit at Kew about incrEDIBLES.
Here is a tabletop display of edible plants.
Japanese Gardens
Pagoda
In the Palm House
It's hard to believe I've been in the UK for almost a year and this past Saturday was my first visit to Kensington Palace.
Palace Gates
Queen Victoria Statue
Gardens at Kensington
Diana Memorial Playground
Diana Memorial Fountain
This is a loop of varying depths for kids
(and others, including me)
to wade in.
Isis Statue
Peter Pan Statue
I spent so much time in the gardens at Kensington, I had to go pretty quickly through the palace. There were lots of displays about monarchs who had called Kensington home, including Queen Victoria, William and Mary and Queen Anne. One display I found particularly poignant is called "Queen Anne's 18 Little Hopes" Queen Anne had 18 babies, but only 1 lived past infancy, and he died at the age of 11 from exhaustion brought on by dancing at his own birthday party.
Chairs representing Queen Anne's 18 Little Hopes
Of course in our time, the palace is most strongly associated Princess Diana. Some of her dresses are on display at Kensington.
Diana's Dresses
I couldn't spend too much time at Kensington, because I had tickets to the West End production of Mamma Mia. Personally, the theatre is my very favorite thing about London. The show was really entertaining!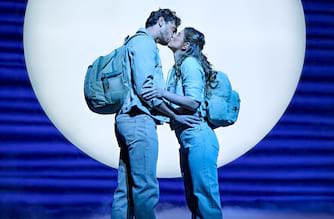 Momma Mia!
The final thing I wanted to accomplish that day was to ride the London Eye.
View of the London Eye.....
... and view from the London Eye.
Last night I zipped back into town after school for one more theatre production,
The Cripple of Inishmaan,
starring Daniel Radcliffe. I have to say, Mr. Radcliffe has come a long way since that wizard movie. It has been absolutely great being a short train ride away from the wonderful plays in London!
The Cripple of Inishmaan